Vegetable Kabobs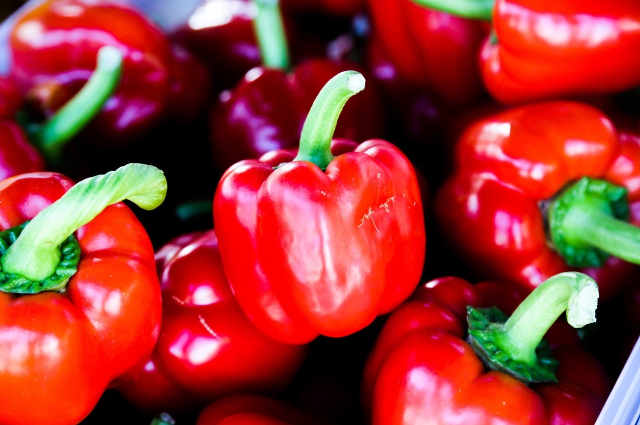 Ingredients
Oil for greasing
1 tablespoon Chinese 5-spice powder
1/2 cup low sodium soy sauce
1/2 cup lemon juice
1/2 cup extra-virgin olive oil
1/2 cup agave
1 lb. button mushrooms
32 cherry tomatoes
2 red or green bell peppers, cut in chunks
Directions
Oil your metal skewers, or soak and then oil some wooden ones. Set aside.
In a 9×13 inch glass baking dish, whisk together the spice powder, soy sauce, lemon juice, olive oil, and agave. .
Put on skewers the, tomatoes, mushrooms, and green peppers, alternating colors.
Set the skewers into the baking dish of prepared marinade and turn to coat evenly.
Cover with plastic wrap and put in refrigerator for at least 2 hours, turning several times and re-covering with plastic before returning the pan to refrigerator.
When ready to cook, remove the pan from the fridge.
Heat the grill to medium.
Remove the skewers from the pan. Save the marinade.
Heat until the vegetables start to turn dark.
Remove from the heat and serve with the rest of the marinade in a bowl for dipping.
This will go well with a salad and/or over a bed of rice.
Vegetarian Fiesta Lasagna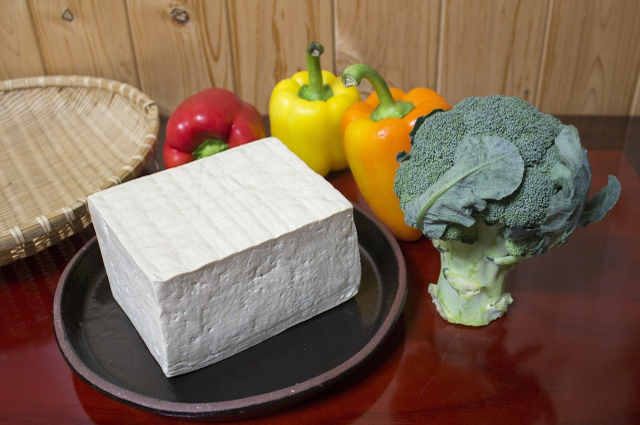 Ingredients
1 tablespoons olive oil
1 pound medium firm tofu, cut into cube
1 tablespoon chili powder
1 teaspoon oregano
Dash ground cumin
Dash dried coriander
Generous dash black pepper
1 pound Roma tomatoes, cored and chopped
1 cup salsa
12 corn tortillas
15 ounces whole kernel corn, drained
4 ounces sliced black olives, drained
1 1/2 cups shredded low-fat cheddar or Monterey jack cheese (or vegan cheese)
Directions
In a large skillet, add the olive oil and heat over a medium flame.
Add the tofu cubes.
Brown the tofu cubes on each side, about 3 minutes.
Add the tomatoes and cook for 10 minutes, stirring occasionally, until the tomatoes are soft.
Add the seasonings and cook, stirring occasionally, until the sauce is thick.
Spray the bottom of a glass 9×13 baking dish with nonstick cooking spray.
Make a layer of 6 tortillas on the bottom, overlapping the edges of the tortillas.
Top with tortillas with half the tofu and sauce.
Sprinkle on half each of the corn and olives.
Sprinkle on a bit less than half the cheese.
Add the next layer of tortillas
Repeat the layer process.
Bake at 375F for 30 minutes until the cheese is melted.
For a heartier meal, swap a can of low-sodium black beans for the black olives.